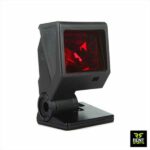 Desktop Barcode Reader for Rent
රු2,500.00 / day
Desktop Barcode Reader Rental
Steady desktop
USB Plug and Play
IP 54 Rated, 32-bit CPU Fast Decode Ability,
24 scan lines in 6 scan directions at scan speed of 2000 scans/sec
Support all 1D barcodes including code bar GS1
High identification ability of damaged barcodes and substandard barcodes
Automatic Sleeping & Wake-up modes save power and improve lifespan
Modem design and compact size make the best choice for various users.
It can work seamlessly on Windows, Mac or Linux OS to seamlessly scan and upload barcodes to any software application
Description
Rent Stuffs is one of the leading IT related products rental company in Sri Lanka including barcode reader rental. We have range of barcode readers for rent including hand held barcode readers, wireless barcode readers, desktop barcode readers etc. Bar code readers allow quick registration of complex data during events, conferences, stock taking or warehousing. Contact us with your requirement and duration of the rental to get the best rates in Sri Lanka. All our Barcode readers are guaranteed models from branded products.