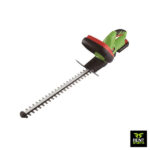 Hedge Trimmer for Rent
රු2,500.00 / day
Rent Stuffs offers Hedge Trimmer for Rent in Colombo Sri Lanka.
Electrically powered
Description
Rent Stuffs is the leading electric lawn movers rental service in Sri Lanka. It is now especially easy for taller gardeners to execute minor trimming jobs in the garden and the accurate cutting of lawn edges using the grass trimmers. The extra-large handle and large additional handle of the grass trimmer support a relaxed, upright posture as well as the simultaneous safe guidance of the tool.