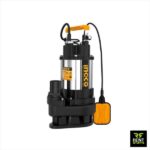 Submersible Dirty Water Pumps for rent
රු5,000.00 / day
Submersible Dirty Water Pumps for rent in Colombo Sri Lanka.
Capacity 2″
Voltage:220-240V~50Hz
Input power:1100W(1.5HP)
Max head:15M
Max flow rate:22M3/H
Pipe Diameter:2″
Copper wire motor
Pump body:Stainless
Motor body:Cast iron
With 9m length cable
Pipe not included
Description
Rent Stuffs is the leading electric lawn movers rental service in Sri Lanka. It is now especially easy for taller gardeners to execute minor trimming jobs in the garden and the accurate cutting of lawn edges using the grass trimmers. The extra-large handle and large additional handle of the grass trimmer support a relaxed, upright posture as well as the simultaneous safe guidance of the tool.
Submersible dirty water pumps are available for rent to efficiently remove and manage water containing debris, sediment, or contaminants. These pumps are designed to operate underwater, making them suitable for draining flooded basements, construction sites, and other waterlogged areas. They come in different sizes and power capacities to handle various water volumes and types of debris. When renting, select the right pump size for your needs, ensure proper setup and safety measures, and return the equipment in good condition after use.